Designing a Farmhouse Kitchen
The concept of a farmhouse kitchen might seem dated back to the '90s, but all it takes is a quick Google search to see that farmhouse styles are so varied that there is sure to be one to fit almost everyone's taste.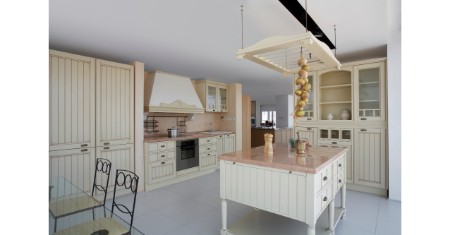 Some of the basic premises behind farmhouse style kitchens are the use of natural materials, space for lots of guests and large meals, and a down-to-earth design that puts guests at ease and helps them feel at home.
Here are some great farmhouse designs to consider.
*Try a simple, long table and cabinets made of oak planks, add a double porcelain sink. Use plaid fabric for the seat covers, curtains, and tablecloths. Add a stone countertop in solid white and white tile floor to match.
*Create a bar with a butcher-block top, pull up a wooden bench, and add a hanging pot rack above it and large hanging lights to either side.
*Try a nearly monochromatic look using hardwood or laminate flooring to set the room off, off-white or tinted cabinets, walls, and countertop. Try adding open-faced cabinets, antique doorknobs, and a large window over the sink.
The options to make a farmhouse kitchen feel like home are nearly endless. Add your own design flair to make it your perfect space.