Designing an Art Deco Style Kitchen

The style of Art Deco became a significant figure in modern art during the 1920s through the 1940s. The style originated in Europe and helped to create luxury items produced in the United States during the 1930s. It has influenced various types of designs for fashion, jewelry, and industrial design while inspiring new designs for visual and architectural arts. It features a luxurious and sophisticated style with standout colors, streamlined textures, smooth lines and geometric shapes. Here are some ideas to help capture the essence of the style for your kitchen.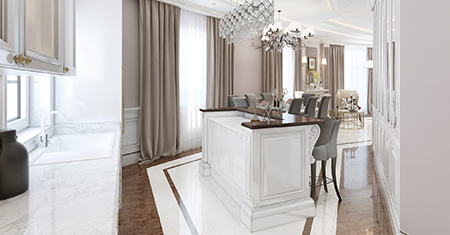 Use dark trim throughout the kitchen when using light colors or white. It's a great way to define a color scheme for your look while highlighting specific details. For example, if you have white cabinets use a dark color trim such as black or brown.


Incorporate geometric or streamlined shapes. There are so many things you can do when it comes to including shapes and patterns. Think about elements such as the walkway to the kitchen, windows, flooring, and details of cabinets. Some may incorporate unique furniture pieces such as chairs or stools with a modern design.


Use stone countertops to make your color scheme pop! Many Art Deco style kitchens feature custom stone countertops that make a statement. Choose from dark and bold colors. Marble and granite are popular choices to bring a new level of sophistication and tone for your kitchen. How the countertop is cut with smooth, rounded edges or squared add to the geometric shapes and contours to define your kitchen style.


Keep the design simple by minimizing items to reduce clutter. Art Deco stands out because it is easy to recognize the artistic elements contributing to the design. Larger pieces in your kitchen such as the table, chairs, or center island should be special touches to your scheme along with your flooring, wall color and a few decorative accessories.


Explore other ways to include artsy décor. Nobs on cabinets, an odd shaped vase to display on the counter, or pictures on the wall may feature a touch of Art Deco. Hanging light fixtures may feature a square or triangular shape. Add lacquer, chrome, or gold finish to cabinets or handles for a dramatic and luxurious presentation.


Learn which colors and patterns are best for the look you want. Dark colors such as black, blue, and gold make patterns and shapes stand out. Other unique colors to consider include emerald green and different shades of blue, orange or yellow. Sometimes patterns influence the direction of color schemes for flooring or walls and don't forget about exotic patterns such as animal prints or floral ideas.

Taking these elements to create an inspired Art Deco style kitchen includes getting ideas on how to transform your kitchen to get the nontraditional yet modern touch you've always wanted. Art Deco lets you be in control of trends and character to display in your kitchen. Choose a subtle or standout approach to give your kitchen an artsy look and feel you want.