The industrial style design made its debut during the 1950s in the United States. It was inspired by factory buildings converted into residential living quarters to reuse the building space.
The style has signature features of natural elements such as cement, wood, and metal. They may feature modern concepts or an old-fashioned atmosphere with a twist. The designs also feature clean asymmetrical lines, subtle and bold colors, and detailed accessory pieces adding a personal touch to the space. Because they feature contemporary and modern décor, they are inviting thanks to open spaces throughout the kitchen, drawing attention to specific details.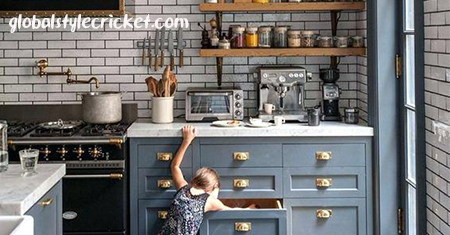 An industrial style kitchen is a great way to play with creativity and space. You can create an unrefined look highlighted with bold colors. You can incorporate new or used materials to give your kitchen a completely different look. Here are a few ideas to help you create the perfect industrial style kitchen for your home.
Give your kitchen a raw appeal by mixing your textures. This element will make a difference in the color scheme you want. Mixing types of materials such as metal, glass, and wood create an aged and authentic look. If you want to add elegance, think about giving surface areas such as cabinets a polished finish.
Make little known details such as handles, nobs, and extractor hoods standout by playing with shapes and colors. For example, handles for cabinets may feature a larger shape for a user-friendly look. Windows may feature thicker frames. Think about darker color shades and hues such as gray, black, or brown when complementing white or another neutral color.
Use concrete or stone material to give your kitchen a rich texture. A bare concrete floor or wall support stud is a great look when paired with concrete stone countertops. Countertops made with concrete stone are popular for industrial design kitchens due to their sleek and bold look with durable designs. They are available in various patterns and colors to create the custom look you want.
Consider dark color shades such as dark grey or black wood material with or without paint finish for cabinetry. If you like your current cabinets but want to change up their look, consider a repaint or refinish to save money. They can be solid or feature an accent design such as a free-standing metal cabinet if you want to add additional storage space.
Take advantage of lateral space with open shelves and industrial style lighting. The open shelves may feature wood material with butcher block style. The illumination may feature exposed lightbulbs hanging from the ceiling with wire or a unique fixture shape made with metal or clear glass.
Establishing the right look for your industrial style kitchen design includes being creative with colors, materials, and using your imagination with your interests. Achieving this design may consist of experimenting with new textures, contrasts, and furnishings to create a long-lasting, custom look you've always wanted.