Designing an Old World Style Kitchen
The Old World kitchen style features design inspiration dating back to the Renaissance and medieval periods. The design includes other influences from areas such as the Mediterranean, the countryside of France, and Italy. The initial look of the style gives the kitchen an antique look with classic and rustic architectural features.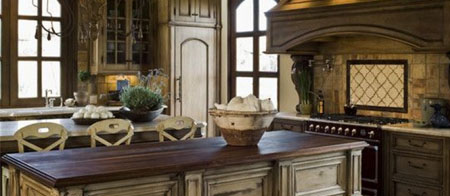 Old World kitchens feature dark and warm colors that are inviting and rich with a regal essence. The kitchen atmosphere gives the illusion of going back in time to a period of European elegance. One characteristic of this style is the appreciation for fine craftsmanship with aspects featuring detailed work on a grand scale.

The following points provide simple ideas toward creating an Old World design.

Give flooring a bold look with thick floor tile options such as volcanic stone in a chocolate brown color with an antique-inspired pattern. Another idea for flooring may include using concrete made with natural elements such as shells, glass, or mirror chips.




Pay attention to small details that can make a big impact on your design. Items such as kerosene lamps, pendant lights, and hanging copper cookware pop against bold or dark wall colors or appliances.




Get creative with walls and ceilings by using stone or salvaged wood. Wood material, such as dark cherry or mahogany, is a common element incorporated into Old World style. You may also consider using wooden wall racks made with oak or wood beams for the ceiling. Stone walls create a contemporary look.




Enhance your countertops with natural material such as marble or granite. Both options are popular for Old World style kitchens due to their durability and rustic look when using dark or light colors. They add great contrast to flooring, walls, and ceilings that use natural materials.




Let natural materials in the kitchen dominate by using a muted color scheme. The concept is great with finished wood elements such as flooring and cabinets.



Use Italian or hand-painted tiles to create an antique look for your backsplash. A hood frame over the stove may feature an antique wood border with a dramatic angle. Another dramatic element to consider is a wood burning stove, an old essential found in many European kitchens during the 16th and 17th centuries.


Custom made or raised panel cabinets may give the kitchen a dramatic and dated look. You can have distressed cabinets made to enhance their look while being fully functional. Give hardware an antique touch by using bronze or gold colored handles.



Introduce your kitchen to Old World style design by incorporating natural essentials to create an antique theme that's warm and comforting. Inspire your kitchen to obtain Old World character with a rustic appeal you'll be sure to enjoy for years to come.