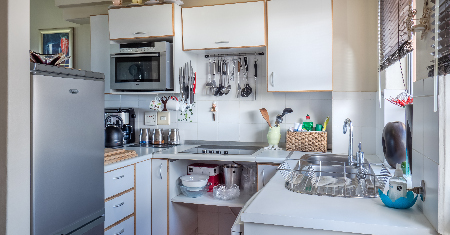 Are you bothered by limited space in your kitchen? Whether you have a small kitchen or you want to maximize what little space you do have, there are useful ways to make the most of your space with little or no budget. All you need are a few organizing tricks and a little imagination to create a functional living area by focusing on space you have available. Here are some smart ways to help you use or create space in your small kitchen.
Get creative with window space. Use the windowsill to display an herb garden, small indoor plants, or canisters. Use a curtain rod to hang utensils, oven mittens, pans, or knives.
Think of different ways to use drawer space. Consider dividers or spacers to organize contents or to make more room for things generally placed on the counter. Besides storing silverware, use your drawers for pantry items or small things such as spices.
Use available space above your cabinets for kitchen items used less often. Doing this may help you place frequently used items in easy to access areas while creating more user-friendly space.
Use space organizers on your counters such as shelf stackers and shelf baskets. These encourage a neat display of items from seasonings to jars, plates, knives, or drinking cups.
Make a mini kitchen island. Material options such as marble or wood provide a sturdy and functional area for work or dining if you want to add more counter space.
Think of ways to use vertical wall spacewith options like wall shelves or pegboards. Use the area to display items such as kitchen towels, seasonings, canisters, plates, knives, and more. Pegboards are available in different sizes and colors, including wood and stainless steel. Consider adding shelves to kitchen corners.
Turn a nearby closet into a storage pantry. If you have open wall space near your kitchen, make it usable by installing shelves. If it's a walk-in space without a door, add a curtain for an elegant touch and to keep your items hidden.
Create pantry storage for space near your refrigerator. If you have available space, turn this into a makeshift pantry to place non-perishable and canned foods.
Use folding tables to save and create space. The table can be multi-purposed for work, eating, or food preparation. A table can fold from the wall with a latch to keep it up when used. Pull the lock to release the table to fold it back down when you need space or to give the area a less cluttered appearance.
Use your sink to gain countertop space with an over-the-sink cutting board. Such boards are available in different designs with some including an attached bowl or straining capabilities.
Any small kitchen can benefit from these natural and straightforward tips and tricks to make the most of limited area. You can save time and space with a creative eye and still have a kitchen you can enjoy that accommodates your needs.