Choosing the best color for a natural countertop is a challenging task. Natural stone options such as marble, slate, and granite with contrasting color tones and designs look appealing. However, it is easy to see why homeowners get overwhelmed when selecting the right color. Even if you have a color chosen, there are different shades and tones of that color that can influence your theme. Here are a few things to keep in mind when determining the best colors for your natural countertop.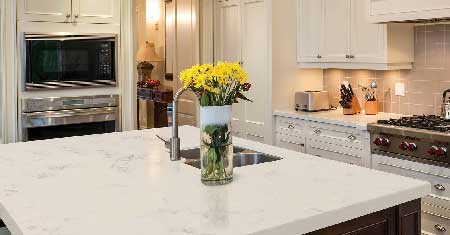 Assess Color Options Available for Your Stone Type
Natural countertops are available in different colors, but you'll want to assess what is possible for the type of stone you plan for installation. Getting an idea of what colors, tones, shades, and color combinations available help narrow your focus. Some say specific stones highlight natural colors better than others, depending on the material and primary use of the countertop.
Quartz countertops are available in vibrant colors. It can feature similar patterns found in marble or granite. Granite countertops feature rare and unique colors. Soapstone features dark tones of gray or green. Slate features color pallets with an antique or aged appeal. Marble countertops are most common featuring solid or mixed colors with bold hues. It is a classic material since it blends well in most color settings.
Color Coordination: Will It Match or Contrast?
Think about where your countertops will be used and other elements such as wall color and cabinets. Do you want the countertop to match the colors already in the room, or do you want the countertop to contrast by complementing an existing color? For example, a white marble countertop may match a white themed kitchen with white cabinets and white flooring. A black granite countertop may contrast space featuring earth tone colors such as brown, bronze, beige, or green. Consider color pairs that go good together, such as black and white, brown and green, or blue-green and cherry.
Additional Things to Consider
Install light-colored countertops in small spaces. If installing a dark color in a small area, choose a color that will contrast to establish a theme. Dark-colored countertops pull in wider spaces to appear smaller. Recessed lighting may enhance countertop colors and its design to give your kitchen or bathroom another look. Think about accessories and style you'll incorporate with the countertop. Things such as fabrics, upholstery, and patterns you plan to use in the space could influence your options. Flooring, cabinetry, and tile may give hints on how to match or contrast the countertop.
A stone countertop is a significant investment for any kitchen or bathroom. Choosing the right color may be difficult but deserves thought and consideration. Assess different designs and tones within the color pallet of your interest to narrow down options. A countertop dealer may provide additional insight on choosing colors.