Kitchen remodels can be huge, expensive undertakings. Choosing to replace your counters and floors isn't like slapping on a fresh coat of paint and calling it a day. The counters and floors are expensive and not easily changeable. They're a big investment, and they're going to be there for a while. Because of that, you want to make the right choice on the first try. The problem is, there are so many choices, and it can be overwhelming to have to make such a big decision. Fortunately, there are a few easy steps that can be taken to choose a perfect, timeless kitchen on the first try.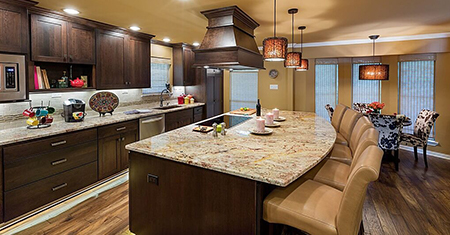 Color Scheme
The easiest place to start is picking a color scheme for the entire kitchen. Get on Google or Pinterest or head to your local hardware store and look at paint chips. Most paint companies even supply books with sample color schemes in them. It's usually best to keep your color scheme narrowed down to two dominant colors and one accent color. This keeps the room from looking too busy or overly matching. The key is to coordinate the colors and materials, not necessarily match them perfectly.
But First, Counters
Once the color scheme is determined, the first step in your remodel should be choosing the new countertops. High quality, natural stone counters and even most engineered products are likely to be the most expensive investment in the kitchen remodel. Given that, it's important to choose a counter you love that matches your chosen color scheme and build of off it. Once the counter is chosen, counter samples can help you choose the flooring and other materials.
Coordinate the Floor
An easy first step in choosing a coordinating flooring is to match the finishes of the countertops and flooring. This will give the room a subtle, cohesive look, whereas mixing finishes like glossy and matte will create subtle, but unwanted contrast. It's then time to choose a floor color. Matching the counters exactly to the floor will give the kitchen a busy and cluttered look. Instead, pick a flooring that complements the counter. The easiest way to do this is to examine your new countertop for color variations. This is particularly easy with stones like granite and marble that have natural veins of color running through them. Then, use this color to help choose a flooring that is not only complementary to the countertop, but that also sticks to the original color scheme chosen. Once the flooring and countertop are determined, it's easy to choose a cabinet color, backsplash, and paint colors that offset the more prevalent colors in the counter and floor as well as draw out the less prevalent ones.
Starting a kitchen remodel can seem like a huge and overwhelming undertaking. There are so many decisions to make, and so many options to choose from. Breaking these choices into smaller steps can make this a fun endeavor that leads to your dream kitchen in the end.