Maybe you just moved into a new home or maybe you've been living there for a while. Your kitchen is great! It's functional and spacious and everything you ever wanted in a kitchen. Except, it's also kind of… traditional. Which is a nicer way of saying "dated." All that oak. It's charming and nostalgic, but it's also a little drab and dreary. Fortunately, you can easily modernize and update your traditional kitchen while still maintaining that original charm.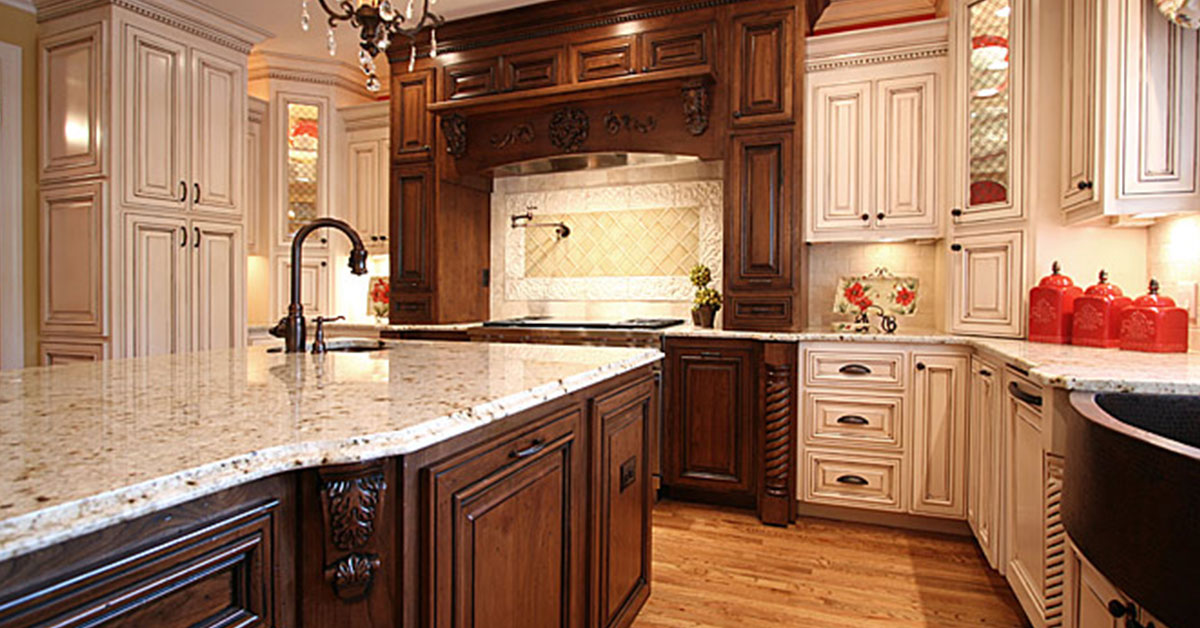 Lose Some of the Oak
Honey oak was a staple in homes for a long time, especially in kitchens. Cabinets, flooring, and trim – that golden honey oak was everywhere. A little bit of oak can go a long way to add warmth to a home, but it can quickly become overwhelming and dreary when there's too much of it. If you're dealing with oak overload in your kitchen, don't jump to getting rid of all of it completely! Work with it. Pick one piece, like the original oak floors, and work around it. Paint the trim white and the cabinets white or grey. These cooler tones will give your kitchen an updated and open feel while those original honey oak floors will give the room the warmth and vibrance they were meant for.
Swap Out Hardware
New hardware is a subtle upgrade that can completely change the overall look of your kitchen. Whether the drawer knobs and pulls in your kitchen are old, outdated, or just nonexistent in the first place, new hardware can give your kitchen a quick and easy facelift at low cost and low effort.
Replace Old Counters
New countertops are a surefire way to give your kitchen that modern, updated look you're dreaming of. This is one of those areas where it can be an excellent idea to splurge on higher end materials if it works in your budget. Natural stone counters might have a higher price tag, but they add a modern luxury that is timeless. They're also typically very durable with the right maintenance and regular care, so it makes sense to invest your money into this aspect of your kitchen if you're on a tighter budget.
Get Creative with Fixtures
Lighting and plumbing fixtures are another subtle way to add some interest to your kitchen without being over the top. Whether you go for something sleek and modern that adds to the clean lines in your kitchen or something more creative and kitschy that pulls those traditional tones back in, your fixtures can become the piece of your kitchen that ties the modern and traditional together.
Add Seating
Kitchens make the perfect gathering place, and you'll want your modernized traditional kitchen to reflect that. When you're painting your cabinets or replacing your counters, it's always a good idea to look at ways that you can open up your space and make it more welcoming. Adding an island or extending an existing island or peninsula with your new counters, then adding some barstools can be an excellent way to utilize the existing space. You can also add some built-in seating with bright cushions for a pop of color in your new space. The end result will be a kitchen that everyone is excited to gather in.
Traditional doesn't have to mean dated and drab. It's possible to combine modern touches with traditional design elements to give yourself a kitchen that's the perfect combination of fresh and chic as well as nostalgic and comfortable.