Stone countertops, whether in a kitchen or bathroom, are a huge investment for a home. It's always a good idea to weigh the pros and cons against the needs of your home and what's important to you as a homeowner before making a decision.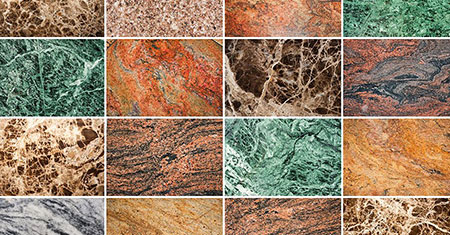 Granite
Because granite is a natural stone, the colors are somewhat limited.Natural granite has a lot of veining that give it its characteristic look, but this also means that full slabs should be viewed in person before making a decision.Small, sample pieces will not always show the full picture of what the stone looks like.Granite will also typically have seams once installed, which are usually about 1/8 inch thick, but the fabricator can typically mix a custom epoxy to disguise the seams.
In the grand scheme of all countertop materials, granite is on the more expensive end.In the realm of stone counters, though, granite is far more affordable, and lower-end granite can actually be less costly than higher-end laminate.You do get what you pay for, though, as granite is exceptionally durable and can literally last a lifetime if taken care of properly.
As mentioned, granite is very durable.It's very heat resistant and will not melt or blister even with a hot pan placed directly on top of it.You should still be careful, though, because granite should be sealed due to its porosity, and heat can sometimes discolor the sealant used.When granite is not properly sealed, it runs the risk of staining because liquid can soak into the pores.It scores a seven out of ten on the Mohs scale, making it very scratch resisiant.
Granite can't be considered a truly green or sustainable product because it takes thousands of years to form, but the industry has taken great strides to move into responsible quarrying and production.Because it can last a lifetime, it has no harmful chemicals, and doesn't emit radiation or gas emission, it definitely has a place in a green, eco-friendly home.
Marble
Marble offers a very unique look that's extremely difficult to replicate.It makes a bold and beautiful statement in any room of the home and is highly coveted for the touches of luxury that it adds.
Generally, marble is very expensive, but there is a little bit of wiggle room that can be found.Marble can be found all over the world, so there are a lot of different varieties in varying price points.
Despite its hefty price tag, marble isn't a particularly durable stone when compared to something like granite.It's very porous, making it very susceptible to staining.It's also relatively soft, so it runs the risk of nicks, cracks, and scratches.It can be very long-lasting, but only with a very good maintenance routine, so it's much better suited for a low-traffic area like a master bathroom than, say, a kitchen in a home with children.
Similar to granite, marble can't be considered truly sustainable because of the amount of time it takes to form in the earth.Even so, it's naturally occurring all over the world, which means it doesn't have the risks of any harmful chemicals or emissions.
Quartz
Quartz countertops are actually engineered by grinding the quartz and combining about 90% quartz with about 8-10% resins, polymers, and pigments, so their appearance largely depends on the engineering process.If the quartz is coarsely ground, you'll see flecks within the counter and, if it's very finely ground, it will appear very smooth.In general, quartz gives a very clean and open look with a glossy finish and a lot of color options.
Quartz is more expensive than granite and can be more expensive than marble.While marble slabs typically cost more, the labor costs of installing a quartz counter is usually much higher.Even though they come with a higher price tag for the material than marble, it's a solid trade-off for increased durability.
Quartz counters are exceptionally hard and durable.They're non-porous, which make them stain and crack resistant.They also don't require sealing or resealing, so they have significantly less maintenance needs than granite or marble.One big drawback to quartz, particularly in a kitchen, is that it's not heat resistant.
Quartz is the second most abundant material on the earth, so even though quartz counters are engineered and cannot be considered as green as granite or marble, they're still relatively eco-friendly.
Deciding to add stone counters into your home is a big financial commitment.Each stone has different pros and cons that should be considered before making your final decision.