Bathrooms are often one of the first areas homeowners think of when they decide it's time to remodel. They're typically much smaller than main living spaces, making them less overwhelming to design, but they still make a significant impact on the overall feel of a home. Home design trends are ever-evolving, so it's important to know what's in, what's out, and what will always be timeless when embarking on a remodeling project.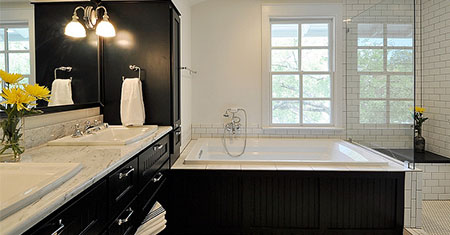 Black Accents
Grey has been huge in bathrooms for several years, but it's slowly giving way to darker tones, specifically black. Black bathroom accents are popular for fixtures, vanities, and mirrors, and they look particularly sharp with a matte finish.
Unique Tile Shapes
Subway and large format wall tiles have reigned in bathroom design but have recently taken a back seat to more interesting tile shapes. New, improved technology allows for stone tile manufacturers to cut tiles into eye-catching patterns like hexagons, diamonds, Moroccan fish scales, and chevrons. These unique tiles can be used for the main show as the flooring and full wall backsplashes, or they can make for bold accent pieces among a more simple, overall style.
Wood Accents
Wood is making a comeback in recent bathroom remodeling trends. It offers warmth and pairs nicely with both more vintage, traditional styles as well as modern, industrial styles. With many shades and tones to choose from, wood can pair beautifully with almost any color scheme and any style.
Crisp, Clean, Neutral Counters
Bold, dramatic accents might be making their way into bathroom design, but neutral tones, as well as crisp whites and blacks, still dominate for bathroom countertops. Natural stone counters with a glossy finish such as granite, quartz, and marble remain the top choices for bathrooms. The glossy finish helps reflect light, brightening and enlarging the room and highlighting the vanity, which is often the centerpiece to a bathroom design.
Undertaking a bathroom model can be both exciting and a little bit overwhelming. It can be hard to balance what's trendy and what's timeless. A good rule of thumb is to remember that the bigger elements such as countertops tend to be more consistent over longer time periods while accent pieces such as mirrors and fixtures are a bit more fluid in their trendiness. Invest in high-quality countertops and tiles, knowing that they'll last longer. If you want to jump on a "trend bandwagon," get more creative with fixtures and accessories that are easier and cheaper to replace.